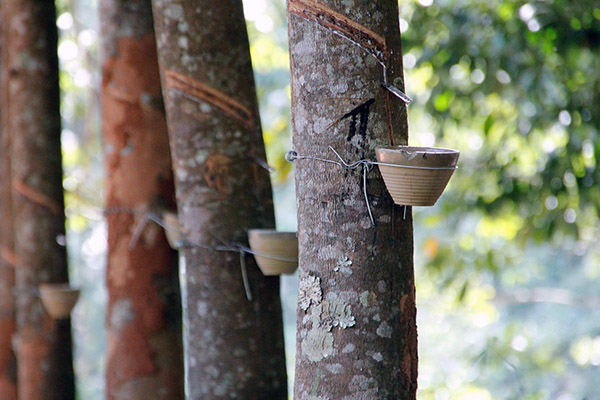 The return of tree tapping, "gemmage", in France
11.08.2020
The harvesting of molecules present in the gum of trees, totally abandoned since the 1990s in France, could be resumed. Scientific research aims to offer new outlets for these molecules of great interest. 
"Gemmage" made in France
Tree tapping, or "gemmage" in French, is a thousand-year-old practice (the Greeks were already familiar with it) and consists of making an incision in the bark of coniferous trees. 
In France, "gemmage" is above all a South-Western tradition. At the beginning of the 20th century, it was an important activity in the Landes forest. The technique consisted in making a wound in the bark to make the resin come out. Sulphuric acid was applied to keep the wound open. A recovery system was installed. This allowed the resin of a tree to be exploited little by little during part of its life or it could be decided to "empty" it three or four years before it was felled so that its foot log could be turned into lumber. If the Landes were the main production centre, it is because the species most present was maritime pine.
Uses of the gum
The gum becomes oleoresin when it is rid of its impurities (rainwater, needles...) and turns into turpentine after clarification.
Once distilled, it provides two products: one solid and odourless product is rosin composed of resin acids. The other is liquid and fragrant, it is the famous turpentine essence composed in particular of molecules of interest that are alpha and beta-pinenes. The uses are well known: solvents for paints, disinfectant, expectorant, fuel, etc. Applications are constantly diversifying and global demand is exploding.
However, gemmings have practically disappeared in Europe over the last thirty years or so due to a lack of profitability.
---
Source : Le retour du gemmage en France, Loïc Chauveau, Sciences et Avenir, 05.07.2020