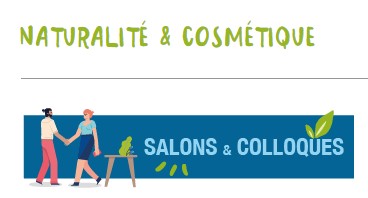 Naturalité & Cosmétique (FR)
Consumers are looking for products that are safe for humans and the environment. The market for natural products is growing and the manufacturers in the sector are seeking to innovate in this field. This day will allow you to network on the theme of naturalness by meeting researchers and industrialists around concrete projects.
The AgriWasteValue project and some of its results will be presented during this day.
Program
Presentation flyer of the project for B2B meetings (French only)
9.00 am Welcome of participants
Introduction by the Conseil Régional Centre-Val de Loire & Cosmetic Valley
9.30 am Conferences and testimonies
9.30 am The Cosmétopée concept through international examples - Jean-Luc Ansel, Cosmetic Valley
9.50 am Vegetal sourcing and responsible innovation : a duo at the service of efficiency - Sébastien DUPRAT DE PAULE, Yves Rocher
10.10 am Optimisation of genetic diversity to innovate in the production of odorous molecules. Example of sclariol for the production of amber - Adnane BOUALEM, INRA IPS2
10.30 am Natural phenolic compounds and valorization of agro-forestry by-products for the cosmetics industry. European project Agriwaste Value - Cédric Peyrot, Agroparistech Innovation
11.00 am Coffee break
11.30 am Wesource & PAT: successful synergy between plant innovation & market expertise in the co-development of an original, high value-added asset - Seppic and PAT 
11.50 am When DNA authenticates natural raw materials! Examples of industrial collaborations - Nicole Giraud, DNA Gensee
12.10 pm Naturalness, the point of view of plant sectors and their contributions: from the project idea to the structuring of the sector - Anne Buchwalder, ITEPMAI
12.30 pm Lunch
14.00 pm Start of BtoB meetings, structuring of collaborative projects Personalized agenda for participants.
18.00 pm End of the day
Practical information
Date : March 12, 2020
Place : Conseil Régional Centre-Val de Loire, 9 rue Saint-Pierre Lentin - ORLEANS (France)
Prices : 

VEGEPOLYS VALLEY member company : 80,00 € HT (Cosmetic Valley member rate in the registration form)
Non-member company:  110.00 € HT
Public actor : 50,00 € HT

More information about this event: aurelien.lepennetier@vegepolys-valley.eu