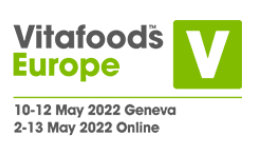 Vitafoods Europe 2022
Vitafoods Europe is the world's nutraceutical event. Vitafoods Europe 2022 will be a hybrid event, which means we'll be simultaneously holding the event live in Geneva (May 10 to 12, 2022) and online as well (May 2 to 13, 2022). 
This annual gathering sees a truly global audience across four sectors covering the entire nutraceutical supply chain, from beginning to end. The exhibition, conference and networking events form the perfect ecosystem for businesses to thrive and forge long term collaborations, enrich their understanding and initiate critical conversations around the most pressing issues concerning the health and nutrition industry.
 AgriWasteValue in Geneva !
The partner of the AgriWasteValue project, Clubster NHL (Clubster Nutrition Health Longevity - managed by Eurasanté), will welcome you on their booth K137 in Geneva at the Vitafoods Europe 2022 convention from May 10 to May 12. Clubster NHL, the professionnal network of industries, research and care, committed to in health & nutrition innovation in Hauts-de-France, will communicate about the Interreg North West Europe project AgriWasteValue. You are going to Vitafoods and are interested in the valorisation of agricultural byproducts into bioactives for the cosmetic and nutraceutical sectors ? Stop by the Clubster NHL booth (K137) and ask about AgriWasteValue !
Practical information