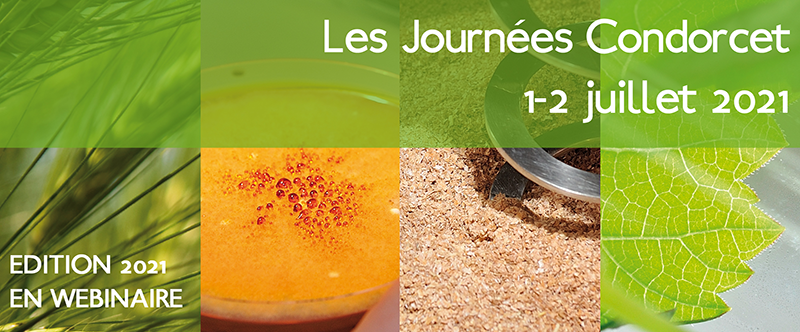 Les Journées Condorcet 2021
For its 9th edition, SFR Condorcet is organising the Journées Condorcet 2021, on July 1-2, 2021 in webinar.
Event online, in French.
On the programme of these days
July 1st
The General Assembly of the SFR Condorcet
Two thematic sessions
"Waste and co-products valorisation for new economic, sustainable and local sectors"
Guest speaker : Grégory Chatel from the UMR CNRS EDYTEM 5204 Laboratory, University of Savoie Mont Blanc / CNRS
and
"Biomimicry: drawing inspiration from living organisms to meet the challenges of sustainable development (social, environmental and economic)"
Guest speaker: Kalina Raskin from the Centre for Studies and Expertise in Biomimicry (CEEBIOS)
July 2nd
Session "SFR idea exploration projects"

SFR members will present the results of their work carried out in the framework of the SFR's calls for exploratory research projects
With the participation of Laurène Minsat, URD ABI, Agro Paris Tech et UMR CNRS 7312 ICMR, URCA « La phloretine : source d'inspiration pour le développement d'analogues bioactifs - AGRIWASTEVALUE, Projet Interreg ».
Practical information
Date : July 1 - 2, 2021
Online
In French
Calendar of the event :

June 2021 : registrations opening
June 30, 2021 : registration deadline - free access but registration required

Towards registration
Contact : sfr-condorcet-contact@univ-reims.fr