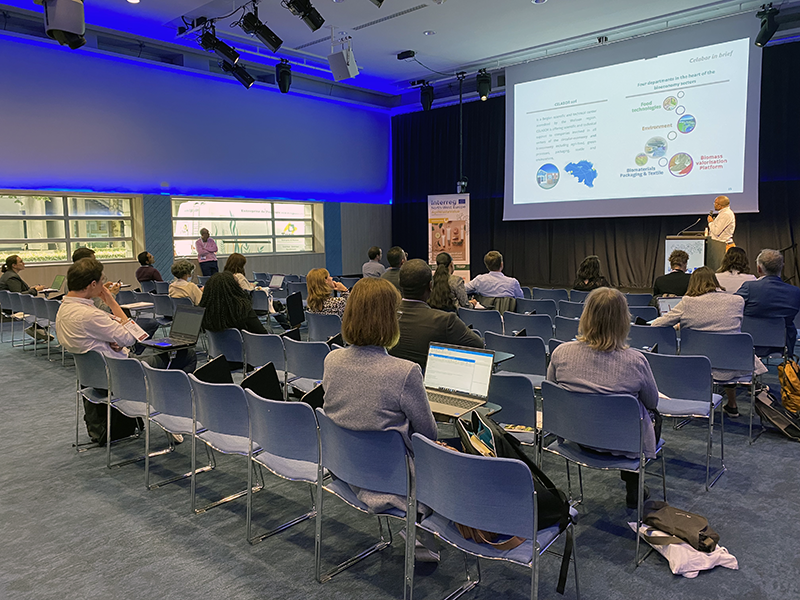 Report on the final event of the project
17.10.2022
The final event of the AgriWasteValue project took place during the Nutrevent 2022 exhibition on 4 October in Nantes (France). This event was marked by the closing conference with the presentation of the complete results and by the holding of a stand, which allowed numerous B2B exchanges with actors of the sectors linked to the project, but mainly from the nutraceutical industry (dedicated exhibition).
The main results of the project
The partners presented in turn their part of the results, going from step 1 to 5 to close the circle of valorization of the residues resulting from the pruning of vineyards, pear trees and apple trees. About thirty people were present.
You can find all the results of the project :
In PowerPoint format
In video format:
A space for visibility and networking
The Nutrevent exhibition, which lasted from 4 to 5 October, allowed us to highlight the AgriWasteValue project and its various deliverables thanks to a well-placed stand for 2 days, which allowed numerous exchanges with stakeholders interested in the approach and the possibilities On the stand, we could find the video presentation of the project, the 4 case studies, the presentation flyer, the extracts of apple trees, pear trees and vines of the project and... potatoes, which grew thanks to the fertiliser of the project!
A proper closing ceremony
In a few key figures, the AgriWasteValue project, which ends on 24 October 2022, is :
26 varieties of residues explored: 11 vineyards, 10 apple trees, 5 pear trees
1,492,432 estimated tonnes of vine prunings and 340,493 estimated tonnes of apple and pear prunings available in North-Western Europe
20 new molecules identified
3 extracts with particularly promising antioxidant, anti-ageing and anti-tyrosinase capacities, derived from apple, pear and vine prunings.
Would you like to discuss the project further or establish a partnership with one or more of the project partners? Contact us via info@agriwastevalue.eu